Inaugural 50x2030 Seminar to explore survey support to satellite-based crop type mapping
The 50x2030 Initiative will kick off its Seminar Series on 15 April 2021 with "Integrating Surveys and Satellites for Agricultural Monitoring in Smallholder Farming Systems". The 50x2030 Seminar Series looks to generate lively debate, dialogue and learning through the exploration of data, tools and knowledge emerging from the 50x2030 Initiative or relevant partner work.
For this inaugural session, experts from the 50x2030 research team and partner Atlas AI will lead in exploring the minimum requirements for surveys to support satellite-based crop type mapping. Discussions will be based on the new 50x2030 working paper, Understanding the Requirements for Surveys to Support Satellite-Based Crop Type Mapping: Evidence from Sub-Saharan Africa. The paper is one of many that will feed into guidelines being developed under the Initiative on collecting the minimum-required survey data for training and validating remote sensing models for high-resolution crop type mapping and crop yield estimation.
The seminar will begin with a presentation of the paper by Talip Kilic (Senior Economist, Development Data Group, World Bank) and George Azzari (Chief Technology Officer, Atlas AI). They will be joined by Catherine Nakalembe (Africa Program Director, NASA Harvest), a leading voice in remote sensing, and Aberash Tariku (Deputy Director, Central Statistical Agency of Ethiopia), who will reflect on the implications of the recommendations for large-scale household and farm survey data collection in Ethiopia. Christophe Duhamel (50x2030 Data Production Manager, Food and Agriculture Organization) will discuss the findings as they relate to the implementation of 50x2030-supported surveys.
Robert Townsend, Lead Economist in the Agriculture and Food Global Practice of the World Bank, will moderate the seminar. The full program follows.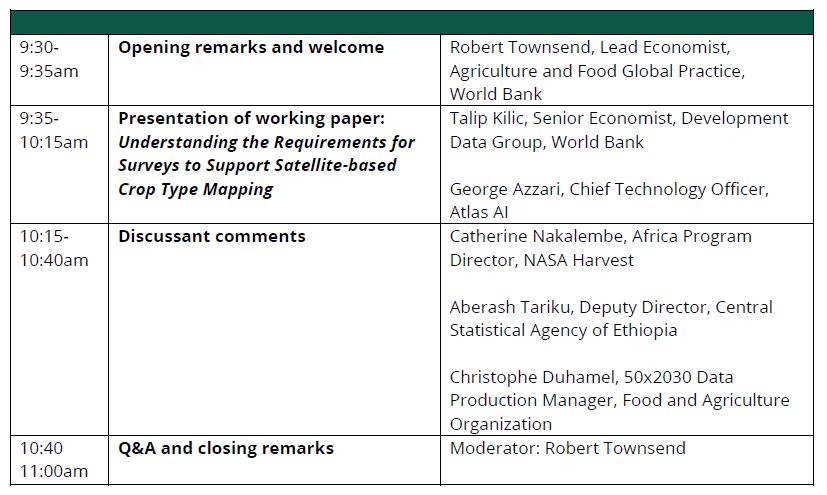 To attend, please register at the link below: 
https://worldbankgroup.webex.com/worldbankgroup/onstage/g.php?MTID=e0ccce9d298b1faabe051d6109adc6fcb
Event number
157 534 3188
Join by phone
Toll: 1-650-479-3207
Access Code: 157 534 3188  
WebEx Support  Internal: 5220-84336   External: +1 202-458-4336